From Twinkle, with Love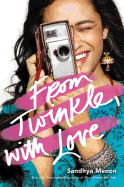 At 16, Twinkle Mehra is the youngest junior at her Colorado Springs charter high school. Twinkle knows "[s]ome might call people like [her] losers," but Twinkle prefers the term "groundlings"--channeling the poor who stood in front of Shakespeare's stages, unlike the privileged in their "silk feathered hats" comfortably seated at a distance. For much of her life, being "Invisible Twinkle" hasn't been all bad, especially since she had Maddie Tanaka as her best friend. But now that Maddie has left her to join the silk-hatted, Twinkle has plenty of time to figure out why Maddie feels she's not "BFF material" anymore.
For as long as she can remember, Twinkle has wanted to be a filmmaker. With the school's "biggest event of the year," the Midsummer Night festival, approaching, Twinkle gets her chance to take the director's chair. She finds her producer in film critic-wannabe Sahil Roy, who happens to be the brother of the boy Twinkle has been crushing on forever. Difficult truths and painful accusations will need to be resolved, new alliances will be made, secret admirers will be unmasked and Dracula and other monsters will all need to be confronted (and tamed).
India-born, Colorado resident Sandhya Menon's (
When Dimple Met Rishi
) second teen rom-com,
From Twinkle, with Love
, clearly celebrates the influence of her self-confessed "steady diet of Bollywood movies." She transfers her
filmi
devotion to the page as Twinkle tells her story through journal entries addressed to her "fave female filmmakers." Between Twinkle's entries, Menon inserts Sahil's confessional blog and his texts to his best friends, along with mysterious e-mails Twinkle receives from a fan calling himself "N." While Twinkle's is clearly the directing voice, Menon makes sure she gets a diverse, committed supporting cast and crew to help her sparkle and shine. --
Terry Hong
,
Smithsonian BookDragon