Against Memoir: Complaints, Confessions & Criticisms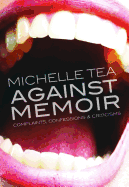 "Doesn't wine retain the flavor of the weather the grapes were grown in? The particularities of the soil, the storms that came or didn't?" asks Michelle Tea in the title piece of her wickedly funny and thought-provoking essay collection Against Memoir: Complaints, Confessions & Criticisms. "Memoir is like that," she continues. "It picks up the essence of the moment you wrote it." Here she's speaking specifically of Valencia, one of her five previous memoirs. Since writing that book, she says, her feelings for the people and places described within it have changed considerably. But there's value, she argues, in leaving a record of one's life--even if that record is rendered obsolete by all that happens after.
With Against Memoir, Tea has collected an impressive record of her life's work as a memoirist and essayist. Divided into three sections--art and culture criticism, personal essays on queer love and reflections on writing--the collection features her finest pieces of the last 20 years for outlets like the Believer and xoJane.
Each section is rich with deep feeling and critical precision. "Purple Rain" is a highlight. Here Tea weaves memories of her adolescent sexuality with those of listening to Prince. Perhaps she just liked men who were "small" and "sensitive" and who wore "heels," she wondered while gazing at album covers. It would be years before she'd fully comprehend her own queerness. This essay is about herself, but it's also a smart piece of cultural criticism. As this collection indicates, Michelle Tea has brilliantly balanced both throughout the whole of her career. --
Amy Brady
, freelance writer and editor