Hawk Rising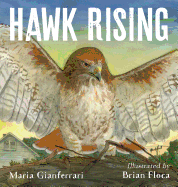 A red-tailed hawk hunts for food to feed its chicks in
Hawk Rising
, Maria Gianferrari (
Coyote Moon
;
Hello Goodbye Dog
) and Brian Floca's ornithological picture book collaboration. A young girl and her mother observe the feathered parent flying through their suburban neighborhood, perching on utility poles and scouting out food.
Gianferrari portrays the behaviors and sounds of the bird with a poetic beauty that mirrors its soaring flight. Sometimes it's easy and carefree: "Father Hawk shakes his wings and springs into the sky./ Keee-EEER,/ Keee-EEER,/ he calls,/ circling,/ seeking prey./ He rides the wind/ like a wave,/ twisting and turning,/ kiting and floating." Other times it's urgent and fierce: "Crashing,/ talons thrashing/ in branches./ Once./ Twice./ Then again/ and again./ Shielded by bramble,/ Sparrows are safe." And throughout, he provides a faithful look at a majestic creature.
Vibrantly complementing Gianferrari's lyrical prose are Caldecott Medal-winning Brian Floca's (
Locomotive
) striking watercolor-and-ink illustrations. The texture and color of the red-tailed hawk leap from the page. And Floca's alternating perspective--between the humans on the ground and the bird in the air--carries readers effortlessly in the wake of Father Hawk's flight.
Hawk Rising
may inspire questions in young audiences about predators and prey (Father Hawk eventually catches a squirrel). The tale, combined with the additional facts at the conclusion of the story, presents an ideal opportunity for examining these and other elements of the natural world. As stunning as its title character,
Hawk Rising
is a grand tribute to the wonders and complexities of our living world. --
Jen Forbus
, freelancer