Tyrant: Shakespeare on Politics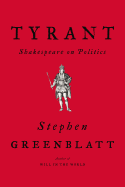 Even more than usual, tyranny is a matter of concern. Stephen Greenblatt (
The Swerve
) scrutinizes William Shakespeare's portrayal of its agents in
Tyrant: Shakespeare on Politics
, and draws a line from Elizabethan England to the world of today.
Shakespeare, a businessman in addition to a gifted playwright, knew that he had to avoid offending Queen Elizabeth, because those who did were tortured or killed. "He could tell the truth about his own world, but only from an oblique angle." So, too, does Greenblatt shine an indirect light on current events, using Elizabethan England as his mirror.
He establishes that Shakespeare's tyrants share certain characteristics--ones that sound remarkably familiar. Henry V manipulates his subjects, disdaining inconvenient facts and displaying false populism. In reality, this scheming king has no interest in the have-nots, but understands that "they can be made to further his ambitions." Richard III is a despot whose physical deformities reflect his twisted personality. Richard feels "inward bitterness, disorder, and violence that drive him forward, to the ruin of his country...." Greenblatt shows how other major characters, including Lear and Hamlet, demonstrate a tyrant's deeply flawed psychology.
Greenblatt provides historical context throughout and, without being political, subtly compares Shakespeare's characters with modern heads of state. Greenblatt shares Shakespeare's hope that "the political action of ordinary citizens" is the savior of democratic institutions. This small volume is an unusual and sobering look at the insidious nature of tyranny and the necessity for citizens to rise up against it. --
Cindy Pauldine
, bookseller, the river's end bookstore, Oswego, N.Y.