The Dependents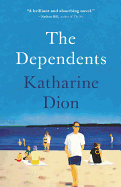 Katharine Dion's first novel, The Dependents, takes readers back to that high school standby play, Our Town. Instead of Thornton Wilder's Grover's Corners, however, it takes place in the small former mill town of Colton, N.H., where Gene Ashe is grieving the death of his wife of 49 years from a post-knee surgery blood clot. Moody, forlorn, immersed in memories, Gene is looking for some sign that his rather humdrum life and marriage with Maida provided the happiness he had anticipated when he was a young man.
Dion, an Iowa Writers' Workshop graduate and MacDowell Fellow, dexterously captures the warp and woof of small-town life. Through Gene's reflections on his past, readers learn of his smug, savvy college friend Ed's tutoring of him in the ways of dating and seduction--and introducing him to Maida. She hesitantly accepted his proposal, observing: "You're quiet, you're pleasant-looking, and you're kind to me."
Living alone now as a bereft widower in failing health, Gene reluctantly hires a caretaker--at his daughter's insistence. When Adele enters his world, Gene finds welcome assistance as well as companionship.
Though shaded in the melancholy of a lonely aging man,
The Dependents
is luminous in the telling. Like Wilder, Dion sensitively and humanely uncovers the ambiguities of life as manifested in the world of a small New Hampshire town. Gene assimilates these ambiguities and, in the end, understands "that the life he'd had--the defective one plagued with uncertainty and misunderstanding--this was the one he wanted after all." --
Bruce Jacobs
, founding partner,
Watermark Books & Cafe
, Wichita, Kan.